Last Updated on 06/02/2021 by secretmoona
Planning a trip to Japan for the first time and worried about the "language barrier"? Should you learn Japanese before going to Japan? I did go and you should too. I knew the language and equipped myself with a notebook full of useful Japanese phrases before travelling there for the first time. As a solo traveller, I didn't want to see myself lost somewhere and not ask for directions. I also wanted to speak to locals and learn new things. Although my Japanese lacked during my first trip, it helped me make the journey more enjoyable.
You are not obliged to learn the language you can get by with little to no Japanese. Learning a few words or phrases can make your trip so much better. Also, I believe it's polite to be able to say "Hello" or "Thank you" in the language of the country you're visiting. Having been there several times, I know how appreciative the locals were every time I said something in Japanese.
If you are interested in learning some Japanese phrases for travel, then this post is for you. This guide will tackle the basic yet essential words and phrases you will encounter and need during your trip. It will specifically help you greet people you meet during your trip, get around and order food at restaurants.
The chances are that you might not use all the words or phrases mentioned below, especially if you travel in big cities like Tokyo but I have found the down to be most useful.
Directions: knowing your left, right, inside, outside, behind, or front will help tremendously, especially when you ask about directions.
Numbers: knowing your numbers will help you find out things like which platform your train will depart from or price of items you'd like to purchase
Important notes:
This list of Japanese phrases for travellers is divided by category: greetings, useful words, travelling, shopping and restaurant.
Japanese is mostly pronounced as it reads in romanised form. Every syllable is pronounced; for example, sake is pronounced as "sah-kay."
"U" is often not at all pronounced. Therefore, when you hear words like "desu" or "masu", they will be pronounced "dess" or "mass". For example, onegaishimasu is not pronounced as o-ne-ga-i-shi-ma-su but o-ne-ga-i-shi-mass.
Depending on the textbook used, the sound "o" will either be spelt "ou", "o" or "ō". An example is どうも(doumo).
It's straightforward to form a question sentence in Japanese. Simply adding does the trick. The particle か is the Japanese version of a question mark. Simply add か to the end of a sentence to form a question. For example, もうたべましたか? (Have you eaten yet?)
Let's get started!
Japanese greetings
Good morning – Ohayou gozaimasu (おはようございます)
Greetings are essential in Japanese if you need to learn a few, then "good morning" should be on your list.
Hello / Good afternoon – Konnichiwa (こんにちは)
Probably the word you will hear the most while in Japan. Although it's written "Konnichiwa" to help with the pronunciation, the correct spelling is "konnichiha". You can greet someone with こんにちは throughout the day to say  "hi" or "hello", however, what it means is "good afternoon".
Good evening – Konbanwa (こんばんは)
Japanese greetings for "good evening", should be used when the sun has already set. Similiarly to "Konnichiwa", the correct spelling of "Konbanwa" is "Konbanha"
Good bye – Sayounara (さようなら)
Sayounara is used when you say goodbye and are unsure whether you will be seeing the person again. For example, you can say "sayounara" to the hotel staff as you check out.
Useful Japanese phrases for travellers
Thank you – Arigatou gozaimasu (ありがとうございます)
Politeness is valued in Japan so you will be hearing and saying this word a lot! Both "arigatou gozaimasu" and the more casual "arigatou (ありがとう) " are used to thank someone for doing something for you. It's preferable to use the polite version for people you've met for the first time.
Thanks – Doumo (どうも)
Doumo is a word you can use in various situations. It means "very" but can be used as a greeting like "hello" or casually to say "thanks" for a small favour.
You are welcome – Dou itashimashite (どういたしまして)
When you help someone or generally do something nice, and they respond by "Thank you" then it's polite to reply "Dou itashimashite" which means "you're welcome" in English. You can use iie here too.
Sorry/Excuse me – Sumimasen (すみません)
Sumimasen is an important word to know as it serves all sorts of situations. It helps get someone's attention, show appreciation, push through a crowd and more importantly, to apologise (for any touristy faux-pas you may cause!).
Sorry – Gomen nasai (ごめんなさい)
Sumimasen will help in most cases, but this word is useful if you bump into someone or roll your suitcase into someone's foot, you will say "gomen nasai" while bowing your head.
Please – Kudasai (ください)
When asking someone to do something for you, the polite way of asking "please" is by saying "ください." To be more polite, you could use onegai shimasu (おねがいします).
I don't understand – Wakarimasen (わかりません)
If you don't understand what someone is saying, use that word. For example, you can say, 日本語がわかりません (nihongo ga wakarimasen) which means "I don't understand Japanese". Alternatively, you can just say ごめんなさい。わかりません。 (Gomen nasai. Wakarimasen).
Yes – Hai (はい)
Hai means yes. People often say うん (un) as well. Sometimes saying hai also means "I understand".
No – Iie (いいえ)
The word for NO is いいえ (iie), pronounced as "ee-ye." But, Japanese people don't like saying no, as not to be rude. It's best to say daijoubu (it's okay) or kekkou desu (I'm fine). Chotto (ちょっと) which means "a little" or "a bit" is also used instead of "No".
Is it okay?/Are you okay? – Daijoubu desuka? ( だいじょうぶですか)
When you want to ask if something is okay, say "daijyoubu desu ka?" You can also use the phrase if you are concerned about someone. To respond that you are fine, say "daijoubu desu" (大丈夫です).
May I? – Ii desu ka? (いいですか)
Naturally, you want to take pictures of things that are typically Japanese. Some places don't allow photos, and even in sites that do, some people might not like when you point your camera right at them. It's always polite to ask first.
How are you? – O genki desu ka? (お元気ですか)
In Japan, to ask how someone how they are, you say お元気ですか. However, rather than saying "how are you?" locals usually ask "how have you been?".
Do you speak English? Eigo wo hanashimasu ka? (えいごを はなしますか)
You can ask someone if they speak English by saying Eigo wo hanasemasu ka. The wo is pronounced "o". You don't want to ask this question to be the first to ask a local!
Useful phrases for travelling / getting around
Where is ~? ~ wa Doko Desu Ka? (~はどこですか)
Getting lost is sometimes part of being a tourist. To ask someone for directions simply say "doko desu ka?" either by saying your destination or showing the location on a map. Doko means "where". One way of using this phrase will be Tokyo eki doko desu ka (eki means station). Even if the person doesn't speak English, they will point to the right destination. Useful words to use with this phrase:
Convenience store – コンビニ – konbini
Hotel – ホテル – hoteru
Train station – えき – eki
Toilet – トイレ – toire
Museum – はくぶつかん – hakubutsu kan
Shopping centre – しょうてんがい – shotengai
community police box – こうばん – kōban
Park – こうえん – Kōen
Tourist information centre – かんこうあんないじょ – kankou annaijo
Tip: Whenever you need help, head for a kōban or shout たすけて (help).
I want to go to ~ –  ~ ni Ikitai desu (~heいきたいです)
You use this phrase to indicate that you want to go somewhere. You can also say ここ (here) if you don't know the name of a place but have an address written down. For example, Watashi wa kuukou ni ikitai desu. (I want to go to the airport)
Please take me to ~ – ~ made onegai shimasu ( ~までおねがいします)
When you want to tell the taxi driver where you are heading, this phrase will suffice. For example, Asakusa made onegai shimasu.
Please, can I have a map – Chizu wo kudasai (地図をください)
Maps are usually available to tourists at various attractions, but you might need to ask for one.
Does this train/bus go to ~ – Kono densha/bus wa ~ ni ikimasuka? (この電車/バスは~に行きますか)
You will likely be taking transports during your trip to Japan, so you will at some point need to confirm you are going in the right direction. Use this phrase to check that you are getting into the right train/bus. You can also say "kore wa ~ ni ikimasu ka" (これは~に行きますか – does this go to ~?)
Shopping and restaurant
In restaurants, waiters will not automatically come to you. If you are ready to place an order, there is usually a bell placed on the table, but if this, not the case, get their attention by saying "sumimasen".
Let's eat – Itadakimasu (いただきます)
People in Japan always say this word before they eat. It's like the French "Bon appetit!". People will surely be amazed if they hear you saying itadakimasu while clapping your hands together before you eat. Gochisousama deshita is used after eating and means "thank you for the meal". You say this if you ate in a restaurant where you have to turn in your dishes.
What is this? – Kore wa nan desu ka? (これは何ですか )
Japan is full of unique things. If you stumble upon something you are not sure about, this phrase will be handy.
I can't eat – ~wa tabemasen (は食べられません)
If you don't eat a particular food, it's essential to know this phrase. For example, if you are gluten intolerant, you can say "Guruten wa taberaremasen – グルテンは食べられません." Some useful vocabulary:
Meat – niku – にく
Pork – botaniku – ぶたにく
Peanuts – pinattsu – ピーナッツ
Egg – tamago – たまご
Fish – sakana – さかな
Seafood -shiifūdo – シーフード
Dairy products – nyu useihin – にゅうせいひん
I would like to pay by credit card- kurejitto kaado de onegai shimasu – クレジットカードで おねがいします. 
It's important to note that cards are not always accepted in Japan, and people usually pay cash. If you want to pay by credit card, be sure to ask first if it is accepted.
The bill / check please? O kaikei wo onegaishimasu (お会計をおねがいします)
Once you have finished eating, you can use this phrase to pay for your meal.
How much is this? – Kore kura desu ka? (これは いくらですか)
Kore ha ikuradesu ka. "Ikura" means how much. You can point to the item by saying "kore wa ikura desu ka?" To understand the answer, you have to know how to count in Japanese. Luckily, the seller will either show you the price on the tag or a calculator. 
I would like this – kore wo onegai shimasu (これを おねがいします)
When placing your order, either show the dish you want or the menu by saying "Kore" which means "this".
Little note about Japanese characters and pronunciation
Japanese is a phonetic language so as long as you say the words as you read, you should be okay. People might understand what you mean. It's useful to listen to some spoken Japanese, so you are familiar with the pronunciation. Check out here for a basic guide to Japanese pronunciation.
Japanese writing is a mixture of three different scripts: Hiragana (ひらがな – rounded shape), Katakana (カタカナ – used mainly for foreign-sounding words, spiky shape) and Kanji (漢字 – derived from Chinese characters). Both Hiragana and Katakana are more straightforward and phonetic scripts, while Kanji is more complicated.
Hiragana has 46 characters, each representing one syllable. Each of the syllables represents a sound which makes it easy.
Katakana also has 46 characters and represents the same syllables as in Hiragana. The only difference is that they are used for anything that is not typically Japanese.
Kanji is the hardest to learn and means "Chinese characters".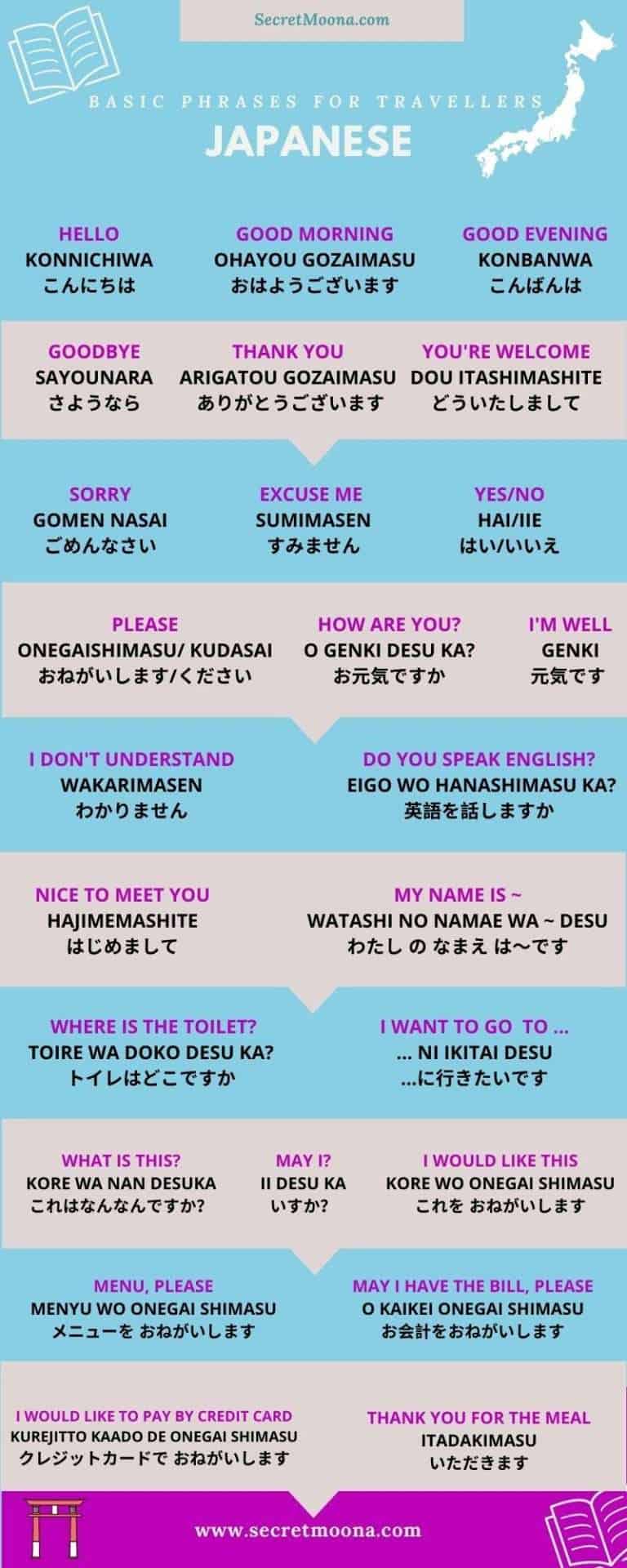 Japanese for travellers – more language learning tools
If you would like to take your learning a step further, there are tons of resources to help you along the way. There are various ways to learn Japanese with some ways costing you no money at all. Youtube, Japanese dramas and television programs are great ways to get yourself familiar with the pronunciation.
Thank you for reading this guide to Japanese for travellers. Are you learning Japanese or planning to learn some key phrase before your big trip? Do you know any other resources to learn Japanese, please share in the comments below?  Be sure to download the PDF booklet.