Last Updated on 05/06/2022 by secretmoona
South Korea is a wonderful country, diverse and culturally rich that has something to offer to all kinds of travellers: city breaks, cultural wonders or beautiful nature scenery.
The country is full of contrasts, from city to city or even within the same neighbourhood. For example, you can be wandering the neon lit streets of Seoul one day, then walking in a quiet rural traditional village the next day or hiking in the mountains.
Planning a 2 weeks itinerary to South Korea?
Last September, I spent two weeks in South Korea. With my friend, we spent hours drawing out our perfect itinerary, checking for places, festivals and events we wanted to see.
Our final itinerary included Seoul, Busan, Jeju, Jeonju and Gyeongju. We knew it was ambitious but we were flexible and were ready to drop a destination if required.
Best time to visit
South Korea enjoys four distinct seasons and a variety of different climates which offer unique perspectives. The country experiences hot, humid summers (June, July and August) and long dry, cold winters (November to early March). In my opinion, they should be avoided if possible.
We were there in September (11th through 23rd) during Chuseok celebrations and the streets around the palaces were full of people enjoying the various shows and parades. It was also the hottest September I ever experienced. So if you are planning to visit in summer, opt for late August, September.
By contrast, spring and autumn seem to be the best time to visit the country. Spring (March to May) where the flowers bloom and offer beautiful cherry blossom viewing opportunities and autumn (December to February) with the colourful autumn leaves are sought out times to visit Korea.
Getting to South Korea
The best way to get to South Korea is by flying to Seoul. To check the best fares, I recommend browsing through Skyscanner.
Getting around South Korea
Transport in South Korea is very reliable, comfortable, fast and efficient. Whether you are taking the train, bus or metro, everything seems to be running on time without any problems.
Tip: When taking the bus to other cities, ensure that you know which bus terminal you will be departing from as the city may have several. Seoul for example has four bus terminals!
When travelling to Jeju Island, flights are a better choice. They are relatively cheap and more convenient than taking an overnight cruise.
Safety in South Korea
Even though relations between North and South Korea are regularly subject to tensions, the country is very safe. In fact, it's one of the few countries I have felt the safest (the other being Japan). No matter how safe a country is, people should always adopt common sense and avoid doing things that can affect their safety.
2 weeks itinerary in South Korea
We spent two weeks in South Korea, which I believe was perfect to explore the country and experience its different aspects (urban city, coastal town, natural island etc…)
The below covers our complete 15 days itinerary however if you have less time in the country, you can pick and choose to adapt to your preferences.
How to Spend 2 Weeks in South Korea
South Korea Itinerary – Seoul (5 days)
Why Seoul
No two weeks itinerary in South Korea would be complete without visiting Seoul. The capital is where tradition meets modernity making it one of the most interesting and vibrant cultural destinations. This modern city seems to always have something going one so staying there less would be a waste.
What to see and do in Seoul
Start your first full day in Seoul by discovering the traditional side of the city. Even though Seoul is modern, it managed to keep lots of its historical sites. With five grand palaces (Gyeongbokgung, Changdeokgung, Changgyeonggung, Deoksugung and Gyeonghuigung) you can visit, temples (Royal Jongmyo shrine, Bongeunsa) and villages like neighbourhoods (Insadong and Bukchon Hanok Villages) you will have enough to do and see for the day. Be sure to explore the little alleys of Ikseon-dong and sample some korean tea in one of the many tea houses or have a taste of the Korean barbecue.
After discovering the traditional side of Seoul, on your second day go on the exploration of its modern side. Start with a morning stroll in "Cheonggyecheon stream ", a hidden green gem. Make a stop at Namdaemun, Seoul's largest market to sample some of the local specialties.
To burn those calories, take a hike to Mount Namsan and enjoy the best views the city has to offer from the top of the N Seoul Tower. It's even more spectacular at night! On the way back to your hotel, make ab-line towards Myeongdong for some late night shopping. The shopping streets filled with beauty shops open until late.
On the third day, head to Dongdaemun Design Plaza, a cluster of art exhibitions/museums, shopping malls, shops and vendors located within the same area. The futuristic DDP building is a sight to see!
Once you have explored the area to the fullest, then head over to the other side of the river to Gangnam, a neighborhood made famous with the song "Gangnam Style" by Psy. Among the luxury shops and buildings is COEX, a big shopping centre where you will find everything from restaurants, cinema to the Instagram worthy Starfield Library. Spend the late evening by the Han River, the perfect spot to see the sunset.
Finally, on your last full day in Seoul, explore some of the neighborhoods in detail. Hongdae or Itaewon are perfect choices. They both have streets filled with cafes, restaurants, nightclubs, shops, karaoke bars, late night shopping. Hongdae is recommended for younger travellers looking for fun. Head there towards the evening to admire k-pop performers, eat street food or go karaoke.
What to eat in Seoul
Korean cuisine is readily available in many parts of the world, from street snacks to Korean Barbecue. Chances are that you would have tried some of the dishes already. As the capital of the country, the city has countless regional specialties that you can without having to travel. Some of the dishes you should try or will encounter are:
Banchan are the side dishes that are served with the main dish. The dish includes all sorts of mini plates such as kimchi. Ddeokbokki is a popular snack made from soft rice cake, fish cake and sweet red chili sauce. It is commonly found at street snack stalls and small restaurants. Meat lovers will love the Korean BBQ, choice of pork or beef served with a vegetable wrap (lettuce or perilla leaves)and a bit of ssamjang paste (fermented bean paste mixed with chilli pepper paste). A delicious and healthy dish to try is Samgyetang (ginseng chicken soup) whole young chicken stuffed with rice and garlic, and boiled with ginseng and jujube.
Where to stay in Seoul
Itinerary South Korea – Busan (4 days)
Why Busan
The second biggest city in South Korea has impressive landscapes of mountains, long beaches and yummy seafood making it an excellent addition to any South Korean 2 weeks itinerary.
What to see and do in Busan
Start your trip to Busan with a morning visit to the dragon temple, Haedong Yonggungsa. Perched on the cliffs facing the sea, the temple is one of the rare temples located by the seaside. It offers stunning sea views and hiking opportunities. Follow on by a relaxing afternoon by the beach. Busan has several nice beaches but Haeundae is the biggest and most popular. It's a great place to just relax, play beach games etc…
In the evening, take a detour via the famous Jagalchi Fish Market to sample some of the city's specialty (quid, huge octopus, eels or a bucket of wriggling gaebul, also known as the "penis fish").
The second day starts with the colourful Gamcheon Culture Village. This neighbourhood with multicoloured houses overlooking the sea is very picturesque is a must when planning your South Korea itinerary. After exploring the village, get another perspective of the city by visiting Busan Tower. In the evening, have dinner in Someyeon, the trendiest neighbourhood of Busan. Be sure to eat at one of the many pojangmachas (food charts).
On your third day, go on an early hike or walking trail along the coastlines. Taejongdae Resort Park is the most popular as it offers spectacular views.
What to eat in Busan
Busan offers plenty of choices when it comes to food. The city is made for food lovers. Fish markets, trendy cafes, high-end restaurants or casual tents eateries: Busan has it all.
Head to Jagalchi Fish Market, the biggest fish and seafood market, find yourself a restaurant serving fried fish lunch sets. Our meal set included an assortment of yummy freshly fried fish together with soup, rice and banchan. If you have started your trip in Seoul, you would have tried hotteok a popular Korean pancake. The Busan version called ssiat hotteok is crunchy with seeds inside.
Where to stay in Busan
South Korea Itinerary – Gyeongju (1 day)
Why Gyeongju
Gyeongju is the cultural capital of South Korea. Capital for almost 1000 years of the Silla Dynasty, this city is full of architectural and historical wonders. Although we spent only 1 day in Gyeongju, it's possible to easily spend two to three days in this unique museum city.
What to see and do in Gyeongju
Start with a visit to Bulguksa Temple and Seokguram Grotto in the north of the city. This UNESCO World Heritage Site is a beautiful Buddhist temple with several buildings including a stone pagoda. After the temple, head back to the city centre and spend the early afternoon walking around all the burial sites such as the Daereungwon Tumuli Park (where the Silla kings are buried) while taking in the history of the place. Within the burial site, you will find Asia's oldest astronomical observatory: Cheomseongdae Observatory. In the late afternoon, make your way towards Donggung Palace and enjoy a slow walk around the Wolji Pond.
What to eat in Gyeongju
The city's specialty consists of a spread of dozens of side dishes called banchan, sauces, rice, and meat that you wrap in lettuce or perilla leaves. Do not hesitate to try it in one of the many ssambap restaurants, your taste buds will thank you. You will be guaranteed to experience a royal dinner that will satisfy you for days.
For those with a sweet tooth, try the hwangnam bread made with red-bean filling.
Itinerary for South Korea – Jeju (3 days )
Why Jeju
Why you must visit Jeju-do? Jeju is a must-see because this volcanic island, located in the middle of the ocean, is recognised as a UNESCO World Heritage Site for a reason. Besides the good climate, the island has tons of beautiful landscapes making it a paradise for nature lovers. Not only you can try to conquer Mount Hallasan, the highest peak in South Korea, but you can also hike one of the many hiking trails on offer (including Jeju Olle Trails). Those who prefer a more relaxing trip can be at ease too as Jeju, being an island is surrounded by beautiful beaches.
What to see and do in Jeju
To make the most of your short stay in Jeju, catch a morning flight. If you can drive, get a rental car otherwise take the bus (like we did) to your hotel. If you are staying near the Jungmun Resort Complex, explore the nearby attractions like Yeomiji Botanical Garden, Teddy Bear Museum and the spectacular Jusangjeolli Cliffs.
Those staying in or passing by Seogwipo will enjoy admiring the waterfalls, especially the Jeongbang waterfall and Soesokkak Estuary. Be sure to include the Manjanggul Cave into your South Korea itinerary.
As previously mentioned, Jeju is ideal for nature lovers, therefore, to see some of the most spectacular scenery make sure to hike either South Korea's highest peak, Mount Hallasan or Seongsan Ilchulbong. Alternatively, join one of the Olle Trails, with more than 21 routes to choose from, each offering a different perspective of the island. I recommend Olle Trails route 6 and 7.
What to eat in Jeju
Jeju is full of unique specialty dishes but the most famous is probably Heuk Dwaeji BBQ or Jeju Black Pork. They even have a street dedicated to it! Seafood lovers can enjoy squid, octopus, cuttlefish, clams, crabs or even abalone, all in a bowl of spicy Haemultang (seafood hot pot stew). Fresh sashimi and abalone are delicacies enjoyed all over Korea but the best and cheapest place to have them is Jeju.
Jeju is renowned for its citrus fruits. Hallabong, a fruit similar to oranges and tangerines is worth a try. You can buy them by the dozen or simply buy the juice sold anywhere in town and markets.
Where to stay in Jeju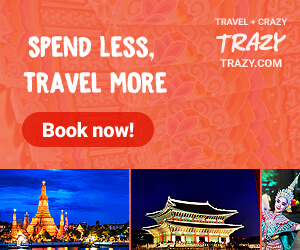 Alternative South Korea itinerary:
You can break your time in Seoul a little with a day trip to one of these two Korean towns. If you enjoy exploring places with history, I recommend Jeongju and Andong.
Jeongju
Jeonju is known for its Hanok Village so if you have not had a chance to go to Bukchon Hanok Village, this is your chance! While there, check the Jaman Mural village and sample the bibimbap (rice dish with vegetables mix).
Andong
Visit Andong if you want to discover the authentic South Korea. The town is known for its traditional culture and the main attraction is the Hahoe Folk village, a Unesco World Heritage site, situated along a picturesque river surrounded by pine trees. The village is full of large tile-roofed residences, thatched roofs houses and old pavilions. Explore the Hahoe Mask Museum, with its intriguing collection of Korean and international masks, before heading back to Seoul.
Practical Information for your South Korea itinerary
Korean language
The language spoken in Korea is Korean. The written language is hangeul, which is very different from the western alphabet. Although lots of Koreans do not speak English, it is rather well spoken in big cities like Seoul or Busan. Plus, most things are translated into English (restaurant menus, street signs or stations names, etc…)
Currency
The official currency of South Korea is the won (KRW). Even though Seoul is pretty much cashless, cash is still preferred in markets or smaller towns. International cards might not work everywhere so it is advisable to always carry enough ash with you while travelling. As an indication:
€ 1 = 1,297 ₩ and 10,000 ₩ = € 7.70
$ 1 = 1,179 ₩ and 10,000 ₩ = $ 8.47
£ 1 = 1,533 ₩n / 10, 000 ₩= £ 6,52
Budget
The cost of living in Korea can be expensive. It is almost the same as some European countries. In particular, I find coffee shops to be extremely expensive. Well, it may be because we spent a great deal of time there! Accommodation and food are in contrast relatively cheaper.
The amount you will spend on your trip will depend on your travel style, your accommodation and food choices. As an indication, here are some prices to consider:
Flight: London/Seoul – between £350 and £900. Our British Airways direct flight was £600.
Seoul airport to city centre: via Arex between 4,000 and 8,000 won / via Limousine bus between 9,000 and 16,000 won
Subway journey: 1,250 won with the T-money card (+ 500 won card deposit, recoverable), 1,350 won otherwise
one night for 2 people in a decent and well-located hotel: between 30 and 60 pounds
a meal in a budget restaurant: less than 10 pounds. Our dinner in Gyeongju was only £25!
Internet
The internet in South Korea was the best I have experienced anywhere else in the world. You can get complimentary WIFI anywhere, cafes, restaurants, buses, stations etc… You can practically travel within the country only relying on the free WIFI. However, if you are a big data user, I recommend ordering a pocket WIFI which you will need to collect at the airport (Seoul or Busan). You may also consider a pre-paid sim if you are staying longer in the country.
While we are on the internet subject, I found out that Google Maps wasn't very useful in South Korea due to restrictions in place. I would recommend downloading Naver Map.
We hope that this South Korea itinerary has inspired you to take a trip to the country. If you have any questions about the places mentioned above or have any tips to share please leave these in the comments below.
Disclosure: This post contains a few affiliate links, which means I may receive a small commission, at no cost to you, if you make a purchase through my link!